AutoSpeedWatch units may not always get enough sunlight to operate continuously, especially during winter months when the sun is low and the sky is often overcast. While Roadside Units generate more results than you'd normally achieve with traditional speedwatch teams, you might find you want more up-time from your unit. If so, then this solar boost option is ideal.
This option significantly increases the power available to AutoSpeedWatch roadside units for better up-time during dull-winter days. It does this by adding a second solar-panel pre-set at an angle optimised to harvest power at UK latitudes, especially during winter.
A horizontally mounted solar panel (as on the easy-fit AutoSpeedWatch unit) can't harvest more than a quarter of the energy available at the winter solstice, due to the low angle of the sun. This solar power boost option increases the power harvested at solstice more than 4 times, meaning that you should have more daytime operation, even during the winter.
Complete with fixing band (please select size needed), and cable ties for tidy installation. Please use tools provided with original unit, or add these should you need them. Size is approx 180mm x 200mm x 130mm.
Please note: Roadside units shipped before 1st January 2021 without the boost option socket will need to be returned to us for a hardware modification to allow this solar boost option to connect. If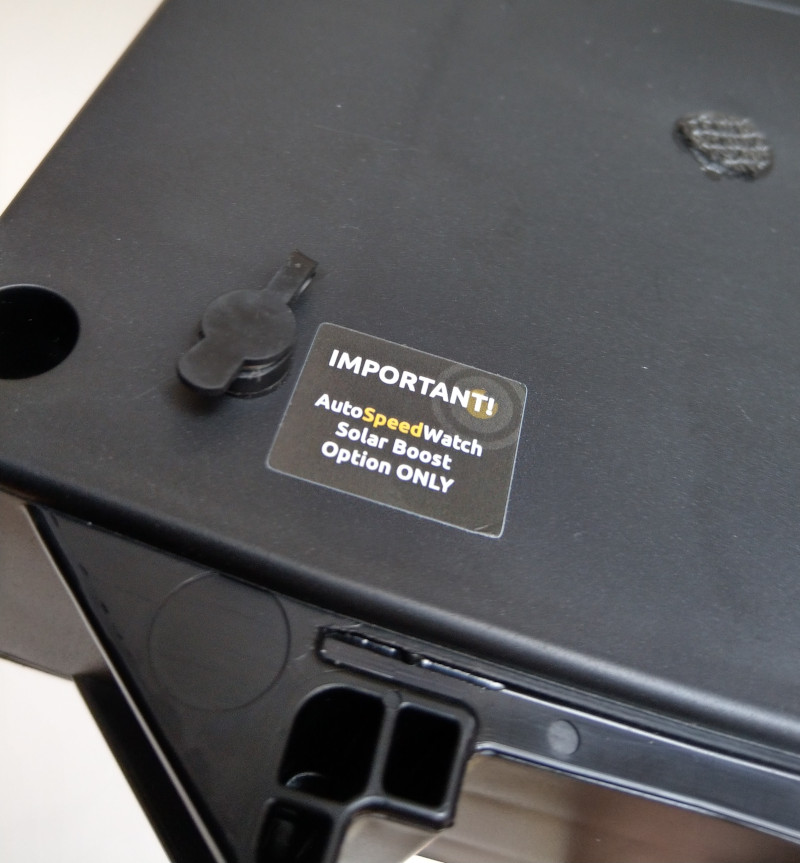 you're not sure just check the base of your unit to see if it has the external charging socket (see photo). If your unit does not have the socket, return it to us using the RMA process, and we'll send it back to you within a week. Follow the "Account"->"Maintenance" guidelines for removing your unit.
ONLY use this AutoSpeedWatch panel to boost the power of your Roadside Unit. Attempting to connect other power sources will likely cause damage.
Solar Boost Option
Product Code:ASWSMB01
Availability:23
Related Products
Tags: solar, panel, boost, option, power