Police Intelligence
Each police force (or authority) can choose what intelligence they get, how to receive it, and who sees what:
What Information:
The police/authority can choose to have:
generalised location intelligence, or
specific vehicle AND general location intelligence.
General location intelligence informs the police where and when speeding occurs so that they can prioritise their Speed Enforcement Units to the right locations at the best times; it does not identify specific vehicles to them. Specific vehicle intelligence allows the police to target individual vehicles that are habitually causing safety risks.
How to receive it: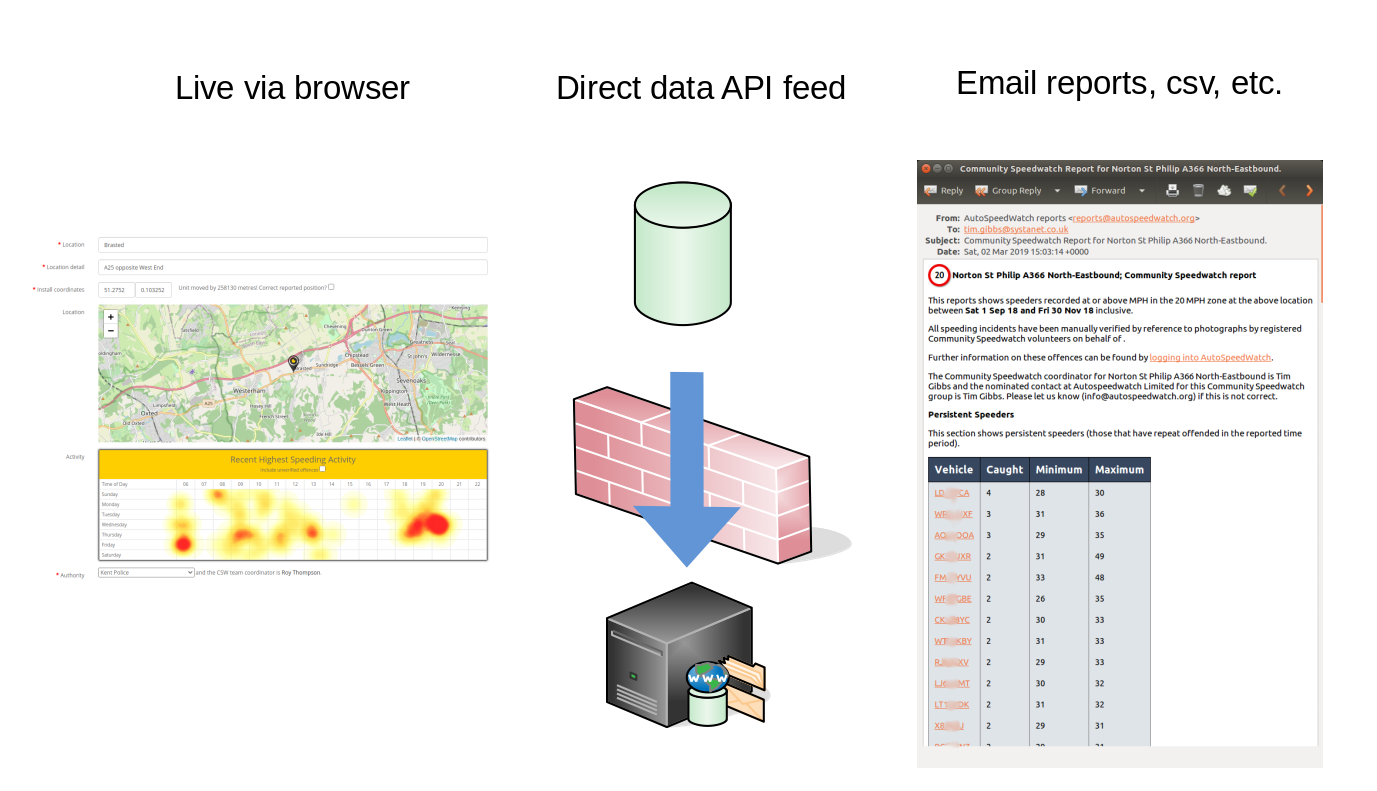 The police/authority receive intelligence electronically:
From reports submitted by coordinators via email (by each location; slightly clumsy and location-centric, but it fits in with existing police/CSW methods). They can ask their coordinators to send as prioritised HMTL for highest, persistent, & illegal vehicles, and heatmaps, or even raw data logs in .CSV format.
From website access using a police "Manager" or "Statistician" account (where they can see combined intelligence across any set of locations, and see area-wide priorities, etc.). The "Statistician" role provides location-based intelligence without VRNs, the "Manager" role provides both location and vehicle specific intelligence. Using website access allows prioritisation of resources.
Via the secure API (which feeds their computer systems directly from AutoSpeedWatch so they see everything live without any need for human interaction). This means they can have at any combination of the data in real-time, automatically generate letters, get automatic scheduling of Speed Enforcement, link to search systems, etc......very powerful. Bespoke configured per force depending on requirements.
Who sees what:

Each force/authority can have a number of accounts for their officers and support staff to see the intelligence provided by AutoSpeedWatch. The first account is provided for free. Each account can be either a "Statistician" or "Manager" account and can be individually set to see any combination of locations using AutoSpeedWatch. This lets the police limit the views of data to precisely those districts/officers/staff that need to use it.
Sending letters
The data for sending letters is easily selected from the information available to the police, and can be limited and prioritised exactly as required. The force can send as few or as many letters as they wish, targeting the worst offenders first. I.e. Rather than respond to all speeders they 'skim' the top few according to whatever criteria is wanted. The force can use the API to do this automatically, use a district or county-wide "Manager" account to import .CSV files, or combine .CSV files sent from Coordinators. So...there's no need to re-enter data.
We also offer (via a separate Police-force partnership organisation) a service to send letters on the force's behalf on a price-per-letter basis, to whatever criteria wanted. Designed to each force's specific requirement.
Pricing
| | |
| --- | --- |
| Description | Price per annum (GBP ex VAT) |
| First online "Statistician" or "Manager" account | Free |
| Each additional "Statistician" or "Manager" account configured to any group of locations | £480 |
| API requirements gathering and configuration | £750 per person day |
| API data subscription per 100 locations (or part) | £9950 |